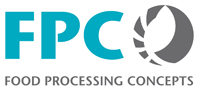 The FPC Clean Air Act has been developed for use in a large variety of baking and cooking processes. The system provides the perfect combination of vapor extraction and cleaning, and has many food industry applications.
The FPC Clean Air Act is able to reduce vapor pollution from the emissions up to 68 percent. The unit is equipped with a variable ventilator that pulls out the vapors released in the cooking process, so that the working area can be kept free from any irritating and greasy air.
The FPC Clean Air Optimizer air purification technology is an innovative and unique after-treatment based on an electrochemical high-voltage catalyser. It removes a variety of organic substances and carbon and/or hydrogen compounds from the air in an environmentally sound and energy-saving manner. The residual products of this cold oxidation process are mainly CO2 and water vapour.
Combining the FPC Clean Air Optimizer and the Clean Air Act produces a perfect source extraction and purification system for processing vapours resulting from a wide variety of production processes in the food industry, enabling odour emission to be reduced up to 90 percent.
The FPC Food Styler, a revolutionary development in the field of grill-marking in the food industrie. The FPC Food Styler can create lines, squares and even logos on a wide range of products.
The contact-free application means that the product is not pressed, so that loss of moisture is kept to a minimum. The variable settings allows lines and logos to be applied to the product. The FPC Food Styler can be used as a stand-alone unit or integrated into a production line.
The system prevents smoke and odours in the processing area.
The unique FPC High Speed Link Cooker provides a very fast method of cooking a line of sausage products. With the FPC High Speed Link Cooker, a high capacity of products can be cooked and browned in a continuous process. In the cooking zone from the FPC High Speed Link Cooker the product is heated simultaneously on all sides, so that maximum temperature transfer takes place. Thanks to the variation in energy supply, the operator can decide whether to give the product a lighter or darker color.
The sophisticated transport system means that any damage to the product is kept to a minimum. The product is fed directly from the stuffer into the cooking zone from the FPC High Speed Link Cooker.
For more information, visit:


www.foodprocessingconcepts.com



Brochure Clean Air Act
Brochure Optimizer
Brochure Food Styler
Brochure Link Cooker